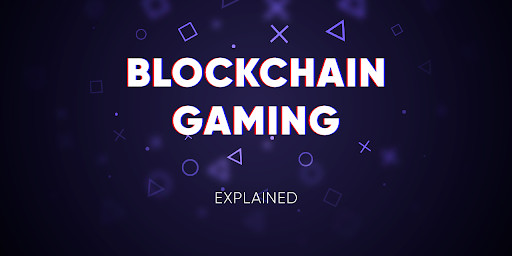 Back to Blog
Potential of Blockchain Gaming industry
---
Let's talk about numbers
2020 Data Research assures that there are more than 2.5 billion gamers across the globe, that means one in three is a gamer. The blockchain gaming industry is booming, the market is estimated to be $50 billion. The Blockchain games sector is developing at the same pace as the games sector. The games industry is expected to grow in terms of revenue and popularity. According to NewZoo, the industry anticipated getting $180 billion in sales in 2021.
Check the trend in the following picture.
Most game developers were creating games for PC, smartphones and tablets according to the game developers conference in 2018. Look in detail at the statistics.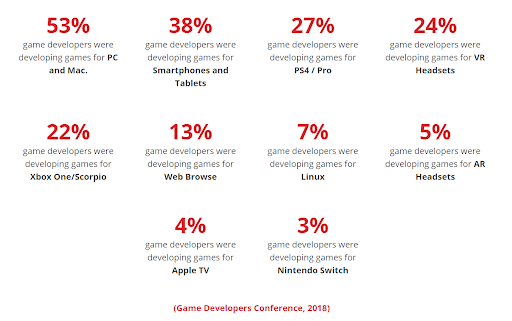 Blockchain for gaming
Profit
Blockchain helps developers and gamers to earn money in the games sector.
Optimized payments
Blockchain and smart contracts can scale down fees and accelerate money transactions. It coordinates all types of payments not only between gamers but also between players and developers.
Several games
Blockchain tokens can be used in many games, it attracts players and expands the market.

Examples
The correct information on the blockchain games market can help with developing a good strategy in the blockchain market.
Most decentralized applications and gaming platforms run on top of the Ethereum blockchain (such as Enjin and Loom). But, there is a growing list of projects being developed on other networks, such as EOS, TRON, ONT, NEO, VeChain, and IOST. A few examples of blockchain-based games include: Unchained, Everdragons, Etheremon, CryptoBaseball, Cryptage Origins, Axie Infinity, Blockchain Cuties.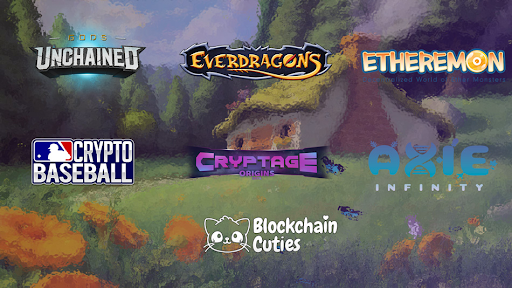 List of popular blockchain games:
https://egamers.io/blockchain-games-list/
Most Anticipated Blockchain Games for 2020:
https://www.blockchaingamer.biz/features/3283/most-anticipated-blockchain-games/
Many projects are created with Ethereum blockchain (such as Enjin and Loom). But, there is a growing list of projects being developed based on networks such as EOS, TRON, ONT, NEO, VeChain, and IOST.
With the broad experience we have Ethereum blockchain development we are getting called experts by our Clients. We can provide Development Teams for Ethereum-based or other kinds of Blockchain-based projects. Check our most successful project based on Blockchain(Будет ссылка) that gained $2billion during the first year!
Your possible advantages over competitors that we can create with Blockchain gaming

Scalability
The number of players is growing every year. Platforms should meet the demand for throughput without any "crashes".
UI/UX design
The design of many blockchain games stays in its infancy when compared with other games.
Innovation
It is expected to use modern technologies such as game theory, artificial intelligence, virtual reality in blockchain games platforms.
Speed
Low speed is one of the main problems for blockchain gaming. Investors always desire to have both the arts of gaming and the quality of the application that does not lag.

The blockchain game industry has wide potential to develop. Possible innovations create new developments. If you have some innovative ideas we can discuss the implementation of your ideas in life. Contact us