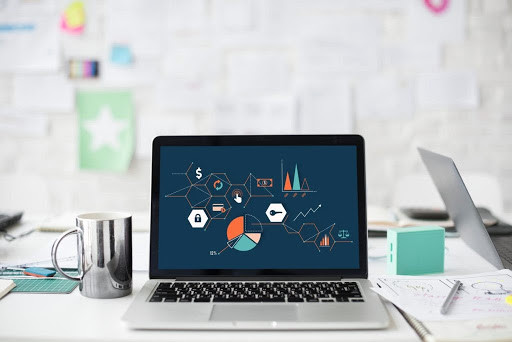 Back to Blog
Benefits of Investing In Fintech Projects
---
VALUE OF FINTECH
Fintech(financial technology) alludes to the progressive use of technological know-how. It is about creating and delivering financial services. Implementing fintech projects cuts over numerous business sections. The most popular segments are lending, advice, investment management and payments. Numerous fintech organizations use big data, analytics and mobile technologies to make life easier for numerous client segments.
Usual banks, insurance companies and startups are very active in this field. Startups frequently provide not universal decisions but goal-oriented solutions.
The ascent of fintech gives opportunities to develop in this sphere more.
Financial services are accessible on the desktop and via mobile making them open to anyone. Besides, online financial services are cheaper and fintech decreases error rate. Transactions become faster and easier. Due to these reasons customers prefer online financial services.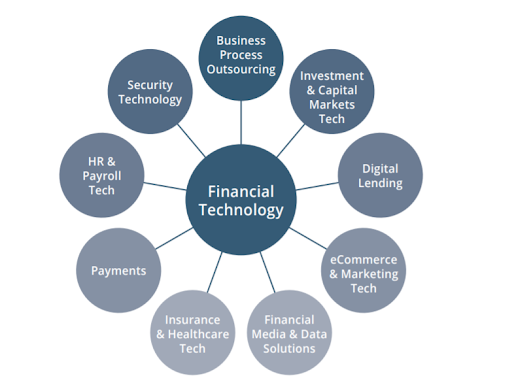 AREAS OF FINTECH
Banking
Major banks offer mobile banking. Promoting the banking is actual. For example, there is potential in AI-enhanced chatbots and anti-money laundering software.
Cryptocurrency & Blockchain
The most effective ability of blockchain is smart contracts. Smart contracts have advantages in comparison with not smart contracts like speed of operation, security and absence of middlemen.
Smart contract technology is currently at the top of almost everyone's needs because of its efficiency and privacy.
Investment & Savings
There is demand for various investment and savings platforms.
Machine Learning & Trading
Demanded direction of development is to predict where markets are headed. Unsurprisingly, with billions of dollars, machine learning is playing an increasingly important role in fintech. The strength of this subset of AI lies in its ability to process huge amounts of data using algorithms designed to identify trends and risks.
Payments
Almost all companies need payment systems.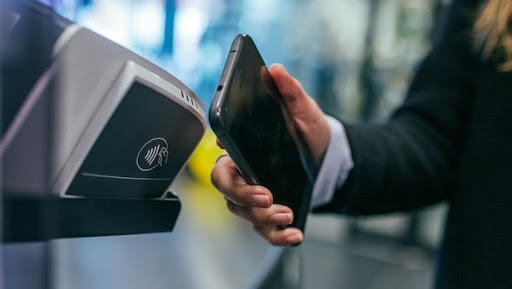 Lending
Fintech is likewise upgrading credit by simplification of administrative procedures, risk assessment and making it possible to lend by pressing a few buttons on a smartphone.
Insurance
This industry is in its infancy and has the potential for development.
WHAT CAN WE DO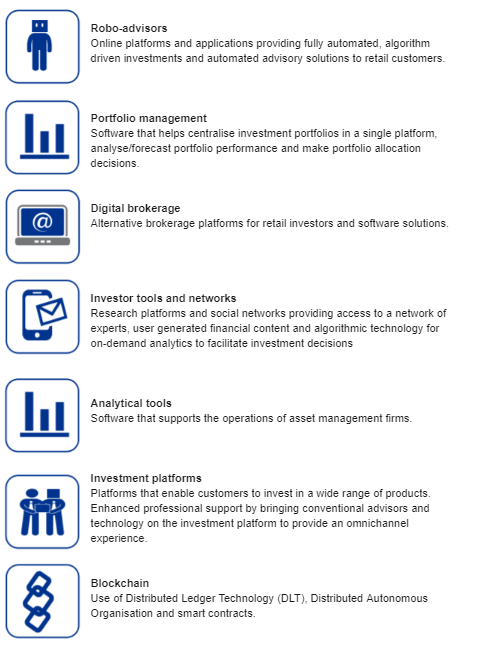 Robo-advisors
Online platforms and applications providing fully automated, algorithm driven investments and automated advisory solutions to retail customers.
Portfolio management
Software that helps centralise investment portfolios in a single platform, analyse/forecast portfolio performance and make portfolio allocation decisions.
Digital brokerage
Alternative brokerage platforms for retail investors and software solutions.
Investor tools and networks
Research platforms and social networks providing access to a network of experts, user generated financial content and algorithmic technology for on-demand analytics to facilitate investment decisions.
Analytical tools
Software that supports the operations of asset management firms.
Investment platforms
Platforms that enable customers to invest in a wide range of products. Enhanced professional support by bringing conventional advisors and technology on the investment platform to provide an omnichannel experience.
Blockchain
Use of Distributed Ledger Technology (DLT), Distributed Autonomous Organisation and smart contracts.
See our the most successful works on blockchain: Decentralized Multicryptocurrency Platform, Blockchain Future Transformation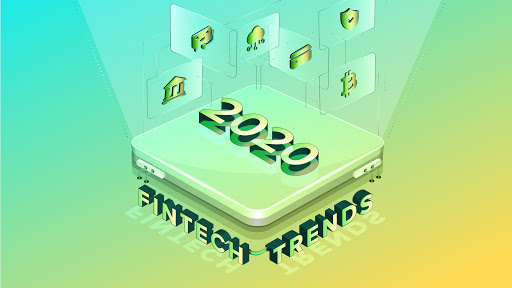 FINTECH TRENDS FOR 2020
Our views for 2020:
The ascent of robo-advisors in stock exchanging, the application of blockchain in fighting with illegal actions or tax avoidance, new ways of credit reporting, analytical tools that collect and integrate structured and unstructured data, support process optimization. It will change users' experience.